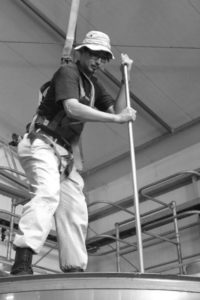 Daniel Chia has been teaching at Temasek Polytechnic since 2005, and currently supports the Culinary & Catering Management team, teaching the Wine & Beverage subject, in addition to conducting wines and spirits training for Temasek Polytechnic's Professional Development Centre, and certification programs for l'Ecole du Vin de Bordeaux in Singapore.He was also Adjunct Professor – Wine Studies, for the the Bachelor of Professional Studies in Culinary Arts Management program at the Culinary Institute of America (CIA) in Singapore, and, Adjunct Professor – Food & Beverage Operations Fundamentals, for the Bachelor of Science in Hotel Administration program at the Singapore Campus of the University of Nevada Las Vegas.
Daniel has a wealth of experience in the wines & spirits world, with 16 years of industry experience, covering stints in sales and marketing within the wines and spirits trade, as well as at 5-star hotels, where he managed restaurants, bars and the hotels' Wine & Beverage programmes, and has managed the opening of two independent restaurants, one in Singapore, and the other in Shanghai, China.
While working in the trade and in hospitality, he found time to be the Principal Lecturer for the SHATEC Australian Wine Education Awards (SAWEA) Program for 6 years from 1997 to 2002.
Since 2001, Daniel has been contributing to the local wine scene's understanding of wine communication. As a panelist in local magazines, he was one of the pioneers to use local flavour descriptors to describe the sensory qualities of wine. He also co-developed the 'Asian Wine Lexicon' to help new wine consumers in Asia describe wines in their own context.
In 2013, Daniel was elected President of Slow Food (Singapore), a volunteer-run, non-profit, non-governmental organisation working on food issues in Singapore, with an emphasis on preserving and promoting Singapore' food cultural heritage. Slow Food (Singapore) launched it's Heritage Hero Awards program, in 2014, which recognises Heritage Bakeries & Confectioneries. Two years later, in 2016, it's Heritage Restaurants category was also launched. Slow Food (Singapore) has also organised an annual Kueh Appreciation Day, as a partner event of the Singapore Food Festival, since 2015.
Daniel is an alumnus of SHATEC, and has a Bachelor of Applied Science in Hospitality Studies from RMIT University, Melbourne, Australia, and a Master's Degree in Food Culture and Communications with a specialization in Human Ecology and Sustainability from the Università degli Studi di Scienze Gastronomiche, Pollenzo, Italy.